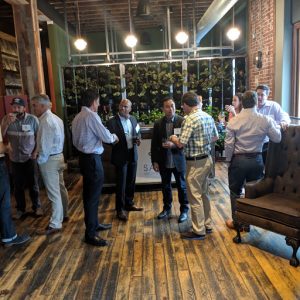 Sage Executive Group member Nick Brune, founder of Eco Caters, introduced his new meeting and entertainment venue in San Diego's Gaslamp District to Sage members in a social gathering in June.
The venue , "Revel Revel," features dramatic, floor-to-ceiling photographic artwork by fellow Sage member Aaron Chang, owner of Aaron Chang Ocean Art Gallery in San Diego and Solana Beach. The Revel Revel location is a large, third-floor space with beamed ceiling and brick walls in a historic building at 868 Fifth Avenue.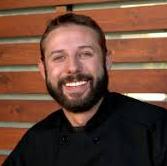 Brune, who is head chef of Eco Caters, grew up learning to cook in the kitchens of Louisiana and has built his company into a muti-faceted catering operation in San Diego, Los Angeles and Washington D.C. that offers organic, locally grown cuisine. One of the company specialties is "Simply Lunch," a ready-to-eat organic meal for companies and their employees at an  at affordable price.
The Thursday evening happy hour was an opportunity for Sage Executive Group members and top-ranking executives to spend time together and enjoy hors d'oeuvres prepared and served by Eco Caters staff.
It was the first of series of spotlight social events planned by Sage Executive Group, which also hosts quarterly seminars and forums on key business issues such as the new federal tax law and the growth of cryptocurrency.
Sage Executive Group, founded in 2012 in San Diego, is a leading peer advisory group whose members work together to address and solve the most critical issues impacting their business and personal lives.
For more information, go to www.sageexecutivegroup.com or call 800-648-1063.