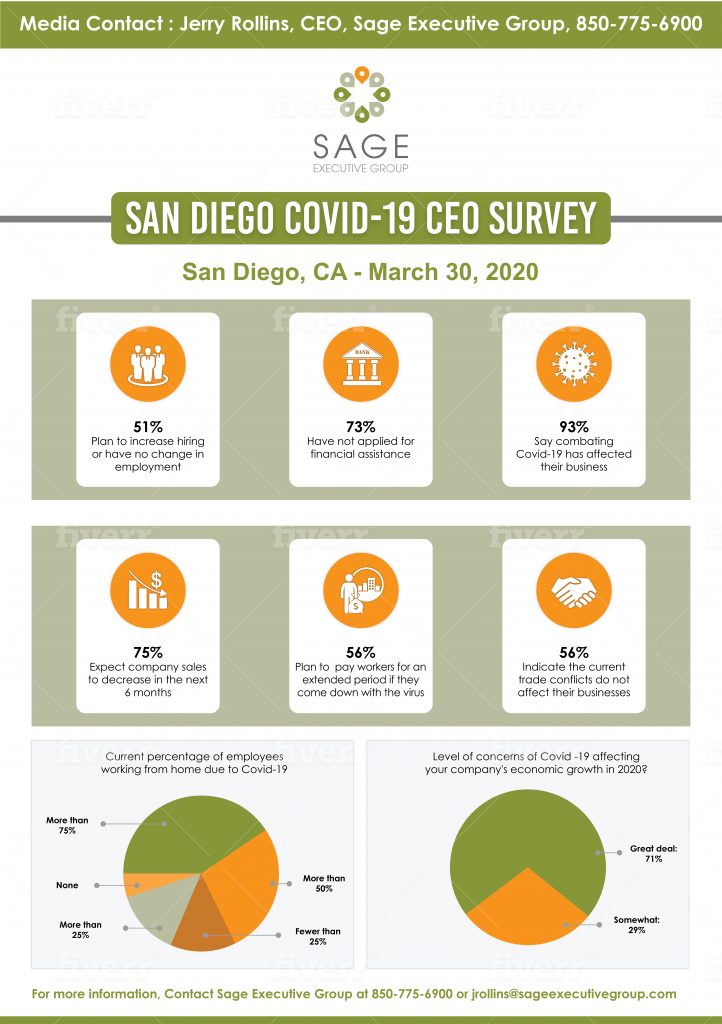 Sales and profits are likely to decline, but a majority of top San Diego business leaders still plan to avoid layoffs and even increase hiring as the country struggles to contain the Coronavirus, according to a poll by San Diego-based Sage Executive Group.
As a measure of the regional outlook, three-fourths of the 45 Sage respondents, including CEOs and executives of a broad range of companies from real estate, finance and technology services to hard-hit restaurants and breweries, said they expect sales to decrease in the next six months. About 6 out of 10 expressed little confidence in achieving profit growth.
Despite the concerns, more than half of the business leaders expect to avoid layoffs or even add workers, reflecting the diversity of the San Diego economy. In the survey, 20 percent expected to add workers; 31 percent foresee no change; and 49 percent anticipate a decrease in their workforce.
The overall sentiment of Sage's members in San Diego and Orange counties is "most expect results to be less than originally forecast, but most are confident of surviving this crisis," said Sage Executive Group CEO Jerry Rollins. "They don't know when the recovery will occur, but they want to be positioned to take advantage when it does." He added that "amid all of the negative news, some companies are thriving and actually increasing their head counts."
The state-mandated measures to battle the Coronavirus have affected every company, and for two out of three firms, more than 75 percent of their employees are currently working from home.
The foremost concern for more than 70 percent of the executives is how Coronavirus will affect their economic growth this year. Other challenges followed far behind as a "great concern" – regulation, 30 percent; political uncertainty, 27 percent; cyberattacks, 24 percent; and trade, 18 percent. Climate change followed far behind at 6 percent.
The results show just how dramatically the economic outlook has changed since the onset of the Covid-19 pandemic, which has affected more than 90 percent of the Sage businesses. Last June, two-thirds of Sage Executive Group members were highly confident of achieving profit growth and executives across the board had no plans for layoffs. A top concern was finding skilled workers for new jobs. Just two months ago, economic policymakers and business leaders made cautiously upbeat predictions for global economic growth at the World Economic Forum in Switzerland.
Sage member Damian McKinney, founder of San Diego commercial real estate firm McKinney Advisory Group and how head of the San Diego office of Toronto-based Avison Young, said that "certain industry sectors are impacted more than others in a negative way, but very few in a positive way." He added, "If you're a restaurateur or owner of a hotel, the glass is half empty. But if you're an essential service provider, then your glass is half full."
The financial landscape has changed so dramatically, he said, that business leaders and investors have "a whole new career ahead of them now," and it will take about 90 days to sort out how the available capital will be allocated.
In the survey, three-fourths of the executives ranked the Coronavirus as their major management challenge, ahead of dealing with a skilled labor shortage and global and local competitive threats. Almost half said their most important goal for the year will be to sustain operations. And 53 percent of the company leaders said they planned to provide sick pay for an extended period to workers who come down with the virus.
The financial climate is changing rapidly, and the poll was taken just as Congress was putting together a $2 trillion economic relief package. Even before that action was taken, almost a quarter of the Sage executives said they had applied for financial assistance. And more than two-thirds said they planned to pay workers for an extended period if they come down with the virus.
Sage Executive Group provides top executives in the San Diego and Orange County areas an opportunity to meet monthly in peer advisory groups to address and solve the most critical issues impacting their business and personal lives.
For more information, contact Sage Executive Group at (800) 648-1063 or visit www.sageexecutivegroup.com.