To lead a group of leaders, a top executive will achieve greater success by embracing a philosophy of coaching forward, of looking through the front windshield rather than the rear view mirror, advised sales expert G. A. Bartick in a presentation to Sage Executive Group.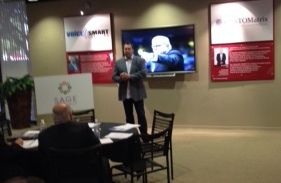 His talk was hosted by San Diego-based Sage Executive Group, a peer advisory organization that gives high-level executives a confidential setting to improve their business performance and enhance their personal lives. His talk at a June 16 breakfast meeting at the Corporate Alliance office in San Diego was part of an ongoing series of learning events hosted by Sage.
Bartick, president of R3 Consultants, urged executives to "quite coaching to the past and start affecting the future." As part of that commitment, he said that even the most well-intentioned leaders become caught up in the problems of the day and need to practice – and then execute – how to  "catch  people doing more things right and fewer things wrong."
Looking through the front windshield is not only a metaphor for focusing on what is ahead, rather than what is behind, Bartick said. It also puts a premium on setting  "crystal clear expectations"  for what is coming down the road.
In addition to that forward-looking vision and ability to communicate, the role of leading leaders becomes more effective if the executive takes time to "get in the weeds, to pay attention to what is happening on the field of play.
Bartick likened that management mind set  to being a "conscious, competent coach," a leader who loves helping their associates figure out how to set up the project, pricing and resources.
That often translates to giving people "the what and the why" of what they need to do to excel in the jobs – and meet the company's management and personnel goals.
For executives in the room, that is a leadership style they described with words like "insightful," "aware" and "inspired."
Sage Executive Group's identity, and resulting rapid growth, has made it a key player in management training and development in the San Diego area. It  has grown from an initial concentration on CEOs from large and mid-size companies with annual revenues of more than $4 million to a wide range of peer groups for C-level executives and sales and marketing experts from companies with sales of $1 million or more.
For more information, go to www.sageexecutivegroup.com.