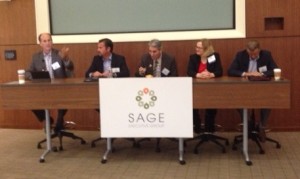 Four experts on mergers and acquisitions addressed the question of what is happening in today's "frothy" investment marketplace at a panel hosted by peer advisory organization Sage Executive Group.
There is a "crazy supply dynamic for quality assets," said Craig Dupper, a partner with Solis Capital Partners based in Newport Beach.
He was joined on the panel, held at the San Diego office of Knobbe Martens law firm on Oct. 18, by Rose M. Thiessen, a partner in Knobbe Martens; Troy Romero, president of Romero Park law firm;  and Kerry Morris, partner in Shoreline Partners:
The question was raised by Jerry Rollins, the panel moderator and CEO of Sage Executive Group, a San Diego-based peer advisory and learning organization for CEOs and other top-level executives.
Romero said he has seen a significant rebound in the number of deals his firm has handled, from 17 in 2007 to zero in 2009 when the recession hit across the country to 14 expected this year.
"Some industries are hot," said Morris, "valuations are at an all-time high." But he cautioned that investors need to carefully examine financial analytics and that the customer base needs to be "rock solid," preferring to use the word "choppy" to describe the M&E climate.
Across the board, panelists expressed wariness about the political climate and outcome of the presidential election. Thiessen said that as an intellectual property attorney,  she is especially interested in "the shape of the Supreme Court" after the new president makes a new appointment, especially on a court that has become increasingly involved in patent decisions.
That led to strong advice to business owners who may be interested in selling, or who might be surprised to find that someone is interested in buying their company.
"Make sure you have ownership of intellectual property," Thiessen said.
And "if your company is based on a technology, it should be beautifully tied up," Romero said.
Every company that might be attracting investors needs a playbook that provides short-term tactics, long-term strategy and "valid, timely and accurate financials," Rollins said. "I have seen $100 million companies without a plan."
And he noted that with the highly publicized, billion-dollar buyout of Ballast Point Brewing Co. last November, company owners still need to be careful not to have "unrealistic expectations."
The event was hosted by Sage Executive Group and sponsored by Knobbe Martens and City National Bank.