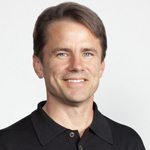 As a Navy Seal and trainer in the Wim Hof method, Jeff Everage found a receptive audience in the group of Sage Executive Group members who gathered for a quarterly learning event on April 19.
Everage, wearing jeans and a black polo shirt, led members through breathing techniques used by Wim Hof, a Dutch extreme athlete noted for his ability to withstand extreme cold. The ultimate goal, Everage explained, is to confront the physical and mental challenges of climbing into a tub of ice and to learn breathing control as a pathway to better health.
"Breathing gets you there," Everage said. "Ice REALLY gets you there." The method, he explained, pushes you to what you think is your limit an beyond, bringing greater awareness that leads to "relaxing into stress, modeling for others and knowing you got this."
Everage also runs a business, Trident Proposal Management, that specializes in consulting for  government contracts.
The breakfast event was held at the Corporate Alliance business hub in San Diego.